GELDING - FRITZ N PISTOL
AQHA #3723606
PHBA # 73545
NFQHA # F0022831 ~ 86%
GELDED 07
Aka: Ghost, at birth I figured him as pure white and I really didn't know what to think or how to react. At first I thought I had a lethal white, but when he was OK the next day, we called him the Ghost. So it stuck.
He was shown as a yearling thru his third year as a halter horse. He was in the "Top 10 " in PCQHA each year and was on the AQHA list. After I started his training and felt he had the ability to go far, I figured I had a cutter. In the fall of his third year, I sent him to my friend Doug Williamson to see what he thought. After a month or so he said, "I think he's a good'n". So we decide to campaign him as a Cutter. He qualified for his first ROM in Cutting in three Shows. He qualified for the AQHA world and was 20th out of 69 horses. In his fourth year he accumulated 125 points with PCQHA and 13 points with AQHA. He was also PCQHA 4-year-old Junior Cutter Champion. Since we made our move to Oregon in 2003 this curtailed his cutting career until we get settled.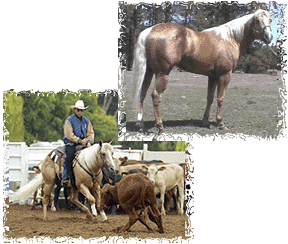 "FritzNPistol" aka "Ghost"
Pedigree